The Cairo-Durham High School Art Department is pleased to announce that four students had work selected for the 23rd Annual High School Regional Juried Art Exhibition. Congratulations to Chloe Cunningham (10), Justin Kahler (12), Sam Winig (10), and Tatyanna Young (10)!
Chloe, Justin, Sam and Tatyanna are among 113 high school students who were chosen to participate in the annual art exhibition. Their works were selected from nearly 500 pieces submitted from 25 high schools around the Capital Region. The exhibit showcases a variety of student work and media such as painting, drawing, photography, film, digital media, and sculpture. Submissions were reviewed and chosen by a panel of local art educators and artists.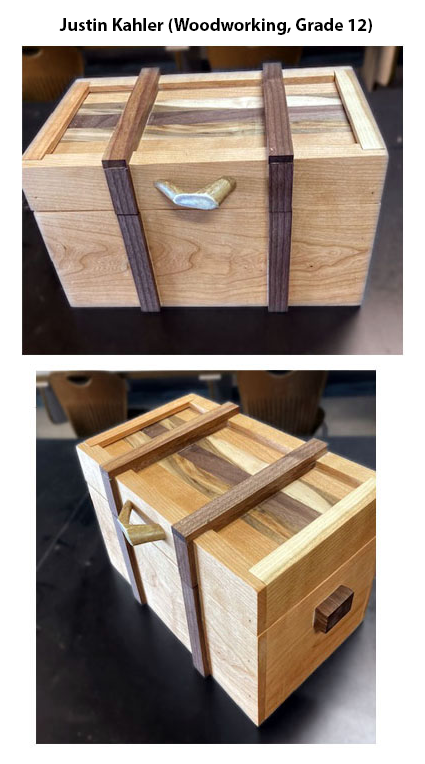 "We are incredibly proud of the four Cairo-Durham High School Art students for having their work selected and displayed in this competitive exhibit at Albany Center Gallery," said Lily McCabe, a teacher and curriculum coordinator in the CDHS Art Department. "We commend them for communicating their ideas using innovative artistic methods such as photo transfer, mixed media and woodworking processes."
At the exhibit's opening on March 25th, it was announced that two CDHS students received awards for their artwork: Justin Kahler and Sam Winig.
Senior Justin Kahler's submission of an original wooden chest was honored with the Lory Tansky 3D Award, which is awarded in memory of a teacher at Schenectady High School. The piece was created using cherry, maple, and walnut hardwood samples as well as a small section of an antler.
"The antler reflects my love for the outdoors and the walnut trim was meant to resemble something similar to a treasure chest," Justin explained.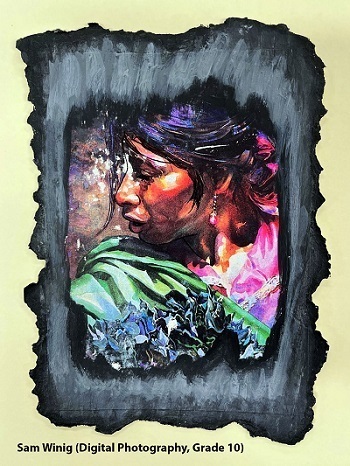 Sam Winig, a sophomore, received the Sponsor Spotlight Award for a mixed media portrait created for Digital Photography.
"In my piece, I used a combination of photo transfer and paint," Sam said. "I wanted to give the effect that the edges of the portrait were burning so I applied the black paint to mimic that."
In addition to Justin and Sam's pieces, two other mixed media photographic pieces were selected for the regional competition and display. Images of Chloe, Justin, Sam and Tatyanna's pieces are below.
The High School Regional Juried Art Exhibition is open for viewing at the Albany Center Gallery from March 25 through April 22, 2022. The gallery is located at 488 Broadway #107, Albany, NY. The gallery is open from 12-5 p.m. Tuesday through Saturday.