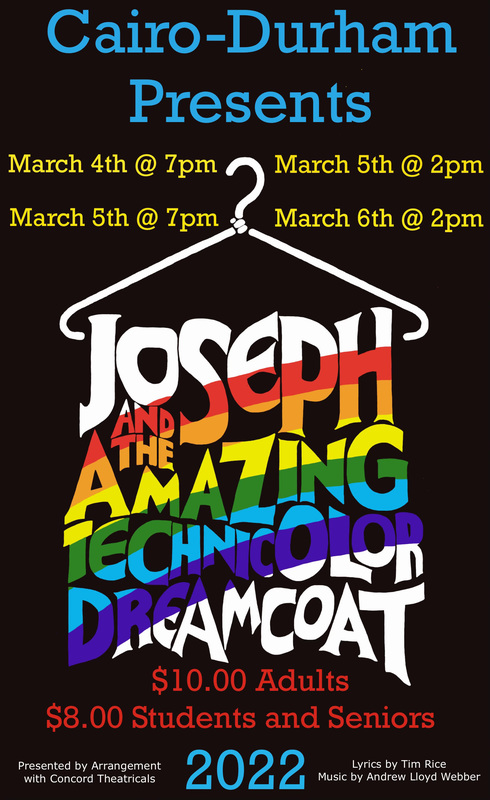 The Cairo-Durham Drama Club is excited to present their 2022 musical production, "Joseph and the Amazing Technicolor Dreamcoat." Opening Night is scheduled for Friday, March 4th (7 p.m.), with two shows on Saturday, March 5th (2 p.m. and 7 p.m.), and a matinee on Sunday, March 6th (2 p.m.). Performances will be in the Cairo-Durham Middle/High School auditorium.
TICKETS
General tickets are $10 and student/senior citizen tickets are $8. Advance tickets are available for purchase in the CDHS lobby on the following dates from 5-6 p.m.:
Thursday, February 17th
Friday, February 18th
Tuesday, March 1st
Wednesday, March 2nd
Advance tickets can be reserved using this reservation form. Please note that any reservations made before Friday, 2/18, MUST be paid for by 6 p.m. on 2/18. Reservations made between 2/18 and 3/2 MUST be paid for by the end of the live sale event on 3/2. Any tickets not paid for will be "unreserved" and returned to the pool. Checks should be made out to "CD Drama Club."
Tickets will also be available for purchase at the door on the night of performances.
If you have questions, please contact cdmusicaltickets@gmail.com

ABOUT THE SHOW
If you like upbeat, energized performances, be sure to come see "Joseph and the Amazing Technicolor Dreamcoat" at Cairo-Durham High School. This family-friendly show will have you dancing in your seats. Andrew Lloyd Weber's fun-loving and humorous retelling of a well-known story features 25 Cairo-Durham students in lead roles and involves another 40 students as members of the cast, crew, and pit orchestra. This show boasts songs from all different genres. You'll see cowboys, rappers, Elvis impersonators, bluesy tappers, French chanson, and disco dancers!
Don't miss all the talent Cairo-Durham has to offer! Come and be part of the magic of "Joseph and the Amazing Technicolor Dreamcoat!"
Poster by CDHS senior Olivia MacGiffert

SPECIAL NOTES
Starting on March 2, 2022, masks will be optional inside school buildings following an announcement from Governor Hochul on February 27th.