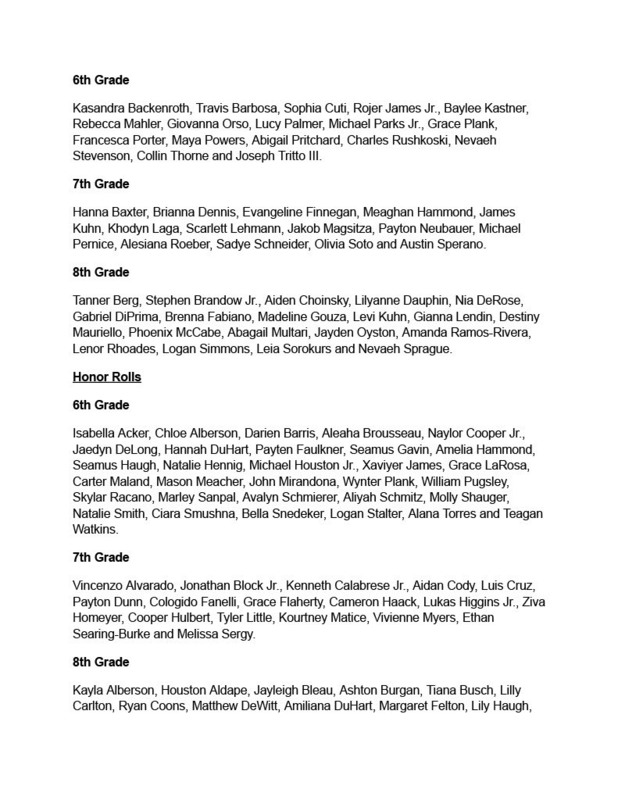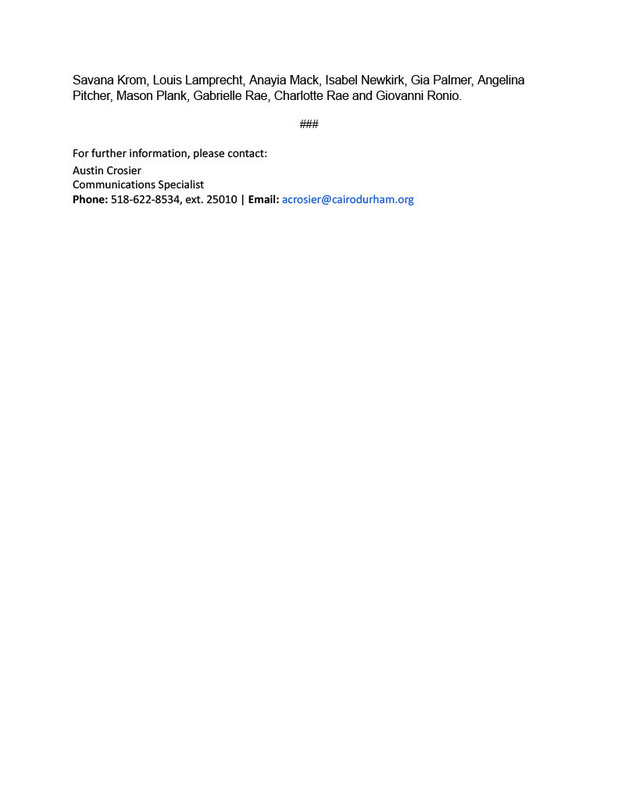 NEWS RELEASE from Cairo-Durham Central School District
FOR IMMEDIATE RELEASE
July 5, 2023
CDMS 2022-23 Quarter 4 Honor Rolls Announced
CAIRO, NY – The Cairo-Durham Central School District is excited to announce its Middle School Principal's Honor Roll, High Honor Roll and Honor Roll members for Quarter 4 of the 2022-23 school year.
To qualify for Principal's Honor Roll, students must record a grade point average of 95 or higher throughout the quarter. To qualify for High Honor Roll, students must record a grade point average between 90 and 94. To qualify for Honor Roll, students must record a grade point average between 85 and 89.
Principal's Honor Roll
6th Grade
Zoey Choinsky, Mya DeRose and John Kiley.
7th Grade
Brooke DeFrancesco, Lucas Lounsbury, Sebastian Miller, Lauren Musong, Patrick Panyan, Alexandra Richers, Abigail Wright and Michaela Wright.
8th Grade
Aiden Houston, Aria McCabe and Ava Zeun.
High Honor Roll
6th Grade
Kasandra Backenroth, Travis Barbosa, Sophia Cuti, Rojer James Jr., Baylee Kastner, Rebecca Mahler, Giovanna Orso, Lucy Palmer, Michael Parks Jr., Grace Plank, Francesca Porter, Maya Powers, Abigail Pritchard, Charles Rushkoski, Nevaeh Stevenson, Collin Thorne and Joseph Tritto III.
7th Grade
Hanna Baxter, Brianna Dennis, Evangeline Finnegan, Meaghan Hammond, James Kuhn, Khodyn Laga, Scarlett Lehmann, Jakob Magsitza, Payton Neubauer, Michael Pernice, Alesiana Roeber, Sadye Schneider, Olivia Soto and Austin Sperano.
8th Grade
Tanner Berg, Stephen Brandow Jr., Aiden Choinsky, Lilyanne Dauphin, Nia DeRose, Gabriel DiPrima, Brenna Fabiano, Madeline Gouza, Levi Kuhn, Gianna Lendin, Destiny Mauriello, Phoenix McCabe, Abagail Multari, Jayden Oyston, Amanda Ramos-Rivera, Lenor Rhoades, Logan Simmons, Leia Sorokurs and Nevaeh Sprague.
Honor Rolls
6th Grade
Isabella Acker, Chloe Alberson, Darien Barris, Aleaha Brousseau, Naylor Cooper Jr., Jaedyn DeLong, Hannah DuHart, Payten Faulkner, Seamus Gavin, Amelia Hammond, Seamus Haugh, Natalie Hennig, Michael Houston Jr., Xaviyer James, Grace LaRosa, Carter Maland, Mason Meacher, John Mirandona, Wynter Plank, William Pugsley, Skylar Racano, Marley Sanpal, Avalyn Schmierer, Aliyah Schmitz, Molly Shauger, Natalie Smith, Ciara Smushna, Bella Snedeker, Logan Stalter, Alana Torres and Teagan Watkins.
7th Grade
Vincenzo Alvarado, Jonathan Block Jr., Kenneth Calabrese Jr., Aidan Cody, Luis Cruz, Payton Dunn, Cologido Fanelli, Grace Flaherty, Cameron Haack, Lukas Higgins Jr., Ziva Homeyer, Cooper Hulbert, Tyler Little, Kourtney Matice, Vivienne Myers, Ethan Searing-Burke and Melissa Sergy.
8th Grade
Kayla Alberson, Houston Aldape, Jayleigh Bleau, Ashton Burgan, Tiana Busch, Lilly Carlton, Ryan Coons, Matthew DeWitt, Amiliana DuHart, Margaret Felton, Lily Haugh, Savana Krom, Louis Lamprecht, Anayia Mack, Isabel Newkirk, Gia Palmer, Angelina Pitcher, Mason Plank, Gabrielle Rae, Charlotte Rae and Giovanni Ronio.
###