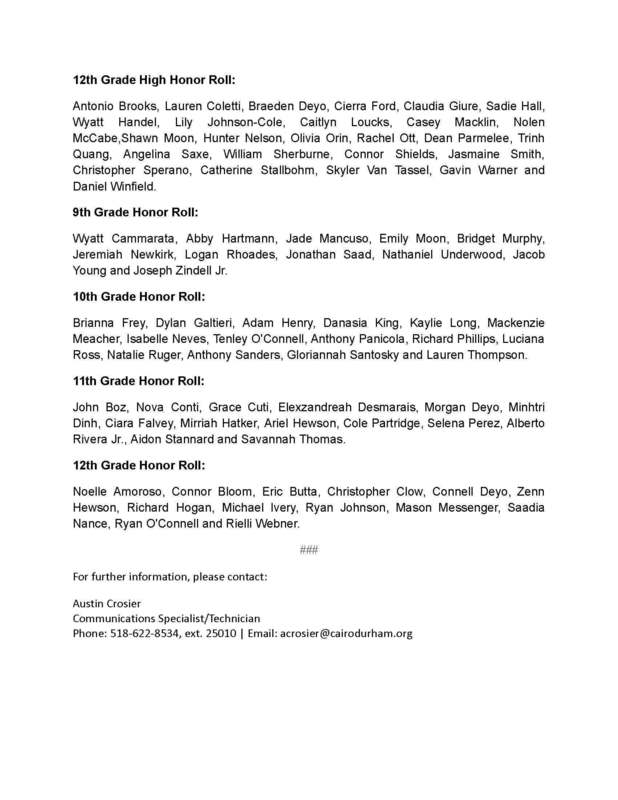 NEWS RELEASE from Cairo-Durham Central School District
FOR IMMEDIATE RELEASE
May 4, 2023
CDHS 2022-23 Q3 Honor Rolls Announced
CAIRO, NY – The Cairo-Durham Central School District is excited to announce its Cairo Durham High School High Honor Roll and Honor Roll members for Quarter 3 of the 2022-23 school year.
To qualify for High Honor Roll, students must record a grade point average of 90 or higher throughout the quarter. To qualify for Honor Roll, students must record a grade point average between 85 and 89.
9th Grade High Honor Roll:
Avery Amoroso, Kingston Czajkowski, Addison Hall, Aaylla Heines, Aylana Merrihew, Nicholas Olivett, Nathaniel Porter, Sophia Renning, Anthony Roeber, Kailyn Russell, Oliver Schrull, Aishwarya Thakur, Grace VanGurp, Zoe Vogel and Issabella Zelinsky.
10th Grade High Honor Roll:
Jessica Baeckmann, Ally Barnett, Andrew Esslie, Kevin Feeney, Rose Fucito, Alan Agustin-Lopez, Rachel Maggio, Natalie McGuire, Jenna Relyea, Kaylan Rennig, Loki Rhoads, Dezaray Riley, Lenesha Sanpal, Lindsay Shelhamer, Ryan Shelhamer, Mackenzie Sherburne, William Sallbohm, Drew Warner and Lauren Zecca.
11th Grade High Honor Roll:
Abigail Brandow, Marc Cammarata, Chloe Cunningham, Joshua Cuti, Olivia Franklin, Ava Goss, Alexander Gouza, Tashana James, Emma Kargoe, Skyler Kelly, Colin MacGiffert, Adrian McGuire, Ayla Neves, Kaitlyn Peterson, Echo Roe, Zachary Russell, Hailey Schrull, Charles Smith, Rhea Smith, Kaylee VanWagner, Zak Wagor and Tatyanna Young.
12th Grade High Honor Roll:
Antonio Brooks, Lauren Coletti, Braeden Deyo, Cierra Ford, Claudia Giure, Sadie Hall, Wyatt Handel, Lily Johnson-Cole, Caitlyn Loucks, Casey Macklin, Nolen McCabe,Shawn Moon, Hunter Nelson, Olivia Orin, Rachel Ott, Dean Parmelee, Trinh Quang, Angelina Saxe, William Sherburne, Connor Shields, Jasmaine Smith, Christopher Sperano, Catherine Stallbohm, Skyler Van Tassel, Gavin Warner and Daniel Winfield.
9th Grade Honor Roll:
Wyatt Cammarata, Abby Hartmann, Jade Mancuso, Emily Moon, Bridget Murphy, Jeremiah Newkirk, Logan Rhoades, Jonathan Saad, Nathaniel Underwood, Jacob Young and Joseph Zindell Jr.
10th Grade Honor Roll:
Brianna Frey, Dylan Galtieri, Adam Henry, Danasia King, Kaylie Long, Mackenzie Meacher, Isabelle Neves, Tenley O'Connell, Anthony Panicola, Richard Phillips, Luciana Ross, Natalie Ruger, Anthony Sanders, Gloriannah Santosky and Lauren Thompson.
11th Grade Honor Roll:
John Boz, Nova Conti, Grace Cuti, Elexzandreah Desmarais, Morgan Deyo, Minhtri Dinh, Ciara Falvey, Mirriah Hatker, Ariel Hewson, Cole Partridge, Selena Perez, Alberto Rivera Jr., Aidon Stannard and Savannah Thomas.
12th Grade Honor Roll:
Noelle Amoroso, Connor Bloom, Eric Butta, Christopher Clow, Connell Deyo, Zenn Hewson, Richard Hogan, Michael Ivery, Ryan Johnson, Mason Messenger, Saadia Nance, Ryan O'Connell and Rielli Webner.