NEWS RELEASE from Cairo-Durham Central School District
FOR IMMEDIATE RELEASE
March 24, 2023
Bloom and Moon Excel at SkillsUSA Competition
Cairo, NY – The Cairo-Durham Central School District would like to congratulate two Cairo-Durham High School students, Connor Bloom and Shawn Moon on placing first and third, respectively, in Precision Heavy Equipment Operation at the SkillsUSA Area III Regional competition on March 16th.
Bloom and Moon, both seniors who study Precision Heavy Equipment Operation at the Marilyn A. Noonan School at Durham, said the skills they have learned over the last decade working on farms and for their families, as well as new techniques and lessons in their CTE program, were tested heavily at the competition.
After two weeks of preparation at their BOCES school, Bloom and Moon were ready to shine.
"We had to get in an excavator and knock tennis balls off of cones, we had to back up a semi (truck) and name a bunch of tools and parts," said Moon.
For Bloom, as one of seven total first-place finishers representing Questar III BOCES, the challenges will escalate in Syracuse for the state competition on April 26-28. A task he is ready to tackle.
"We worked hard for it. I think the tests are going to be a lot harder," Bloom said. "I'm up for the challenge though."
Bloom said the support from the district and his classmates at the Marilyn A. Noonan School at Durham has been overwhelming, with many congratulations and cheers being thrown his and Moon's way.
"We are extremely proud of Connor and Shawn's accomplishments at the recent SkillsUSA competition," said Superintendent Michael Wetherbee. "The programs offered at the Marilyn A. Noonan School at Durham allow our students to specialize in fields that they have a passion and desire to improve and serve in post-graduation, with real-life certifications and trials to participate in."
After graduating in June, both Bloom and Moon have aspirations of working in the heavy equipment industry to perfect their craft. Bloom spoke on two lessons he's learned in the process of getting ready for the state competition.
"Put your mind to it, and listen to what people say you need to improve on," said Bloom.
###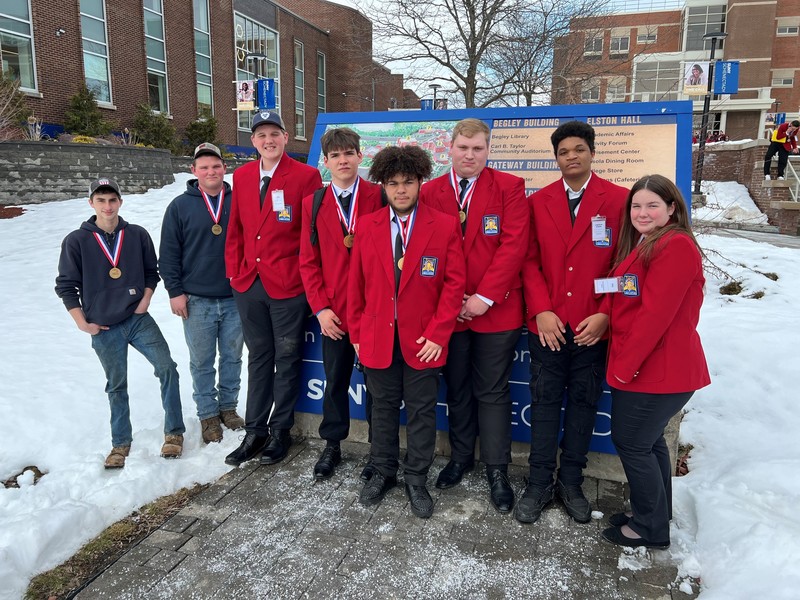 For further information, please contact:
Austin Crosier
Communications Specialist
Phone: 518-622-8534, ext. 25010 | Email: acrosier@cairodurham.org