The Transportation Department is responsible for managing buses throughout the district.
To apply for a position in the Transportation Department, complete this general application and submit it to the Director of Transportation at hschwanse@cairodurham.org, by mail or in person.
Contact Information
Director of Transportation - Herb Schwanse, Jr.
Head Bus Driver - Peter Maassmann
Cairo-Durham CSD
ATTN: Transportation Department
1301 Route 145
Cairo, NY 12413
Phone: 518-622-2236
Fax: 518-622-3021
Bus Routes
Click here for the 2023-2024 Bus Routes. Please check the bus routes periodically in the beginning of the school year for possible changes.
(Note: In order to view PDFs, you may need Adobe Acrobat Reader. If you do not have Adobe Acrobat Reader, you can download it for free at Adobe's website.)
School Bus Safety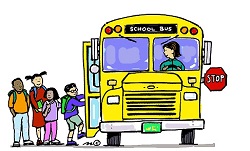 New to the District?
If you are new to the area, please visit the Registration webpage for information. The Central Registrar will be able to help you with paperwork, including making arrangements for transportation.
Change of Residency (Within District)
If you change residency but still live within the Cairo-Durham Central School District, please download and complete the Change of Residency packet (PDF) to continue enrollment for your child(ren). It includes proof of residency information, a Residency Questionnaire, and a Request for Transportation form.
Please return Change of Residency documents to the Central Registrar:
Cairo-Durham High School Guidance Office
1301 Route 145
Cairo, NY 12413
Telephone: 518-622-8543, ext. 56010
Fax: 518-622-8856
Email: registration@cairodurham.org
Request for Transportation to Non-Public Schools
Deadline of 4/1/23: 2022-23Request for Transportation to Non-Public Schools Form
Weather / Closings and Delays
If you are uncertain about the weather causing a closing or delay, you can call the phone number for this department (518-622-2236). The outgoing message on voicemail should be updated if one or more schools are closed.
If you are not already receiving notifications via phone, email and/or text for weather-related closings or delays, please contact the District Office if this is something you would like to receive.
Driving Directions
If you need driving directions to any of our schools, please check that school's web page for links to Google Maps. These services should provide you with driving directions and maps.