Congratulations to the 5th graders who earned Safety Patrol awards in November!
There are four types of badges Safety Patrollers can earn, starting with the Patrol Badge and moving up in "rank" with the Sergeant Badge, Lieutenant Badge, and the highest-ranking Captain Badge for a student who goes above and beyond the scope of duties. Congratulations to the following students:
Molly S. – Captain Badge
Joseph N. – Lieutenant Badge
Preston K. – Sergeant Badge
John K. – Patrol Badge
Alyssa K. – Patrol Badge
Alexander M. – Patrol Badge
Isabella A. – Patrol Badge
William P. – Patrol Badge
Neveah S. – Patrol Badge
Anthony C. – Patrol Badge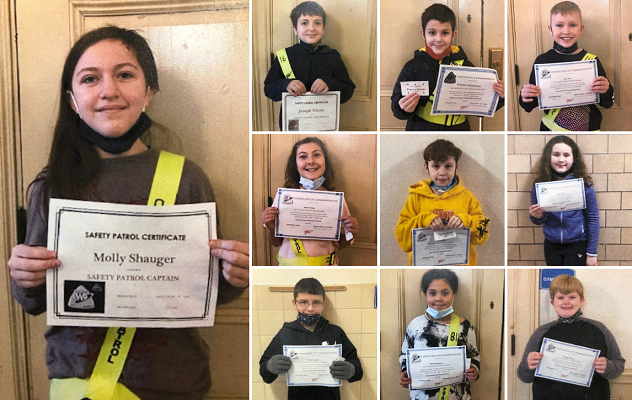 Each month, award badges are given out to selected Safety Patrol members who exhibit exemplary traits such as responsibility, respectfulness, cooperation, and helpfulness. Safety Patrol members work with Deputy Espel to keep students safe in the hallways and on school buses. They model for other students the safety rules that are taught in the classroom, assist with hallway monitoring, and help students get to their classes or designated areas safely.
Safety Patrol members also earn badges by being on time to their post in the morning, wearing their safety belts during the school day, and keeping up with their class work. Members of Safety Patrol must remain in good academic standing in all subject areas and model good behavior choices.
Award winners have their pictures displayed in the hall next to the principal's office.
About the CDE Safety Patrol
The purpose of the CDE Safety Patrol is to enhance the safety of our students while promoting the development of leadership skills and good citizenship qualities. It was started in 2018 by Deputy Espel, our School Resource Officer from the Greene County Sheriff's Department.
This year, there are 22 active safety patrollers at a time and they rotate throughout the year so that all students signed up have a chance to wear the lime green Safety Patrol belt. A total of 72 fifth grade students are signed up for Safety Patrol this year.