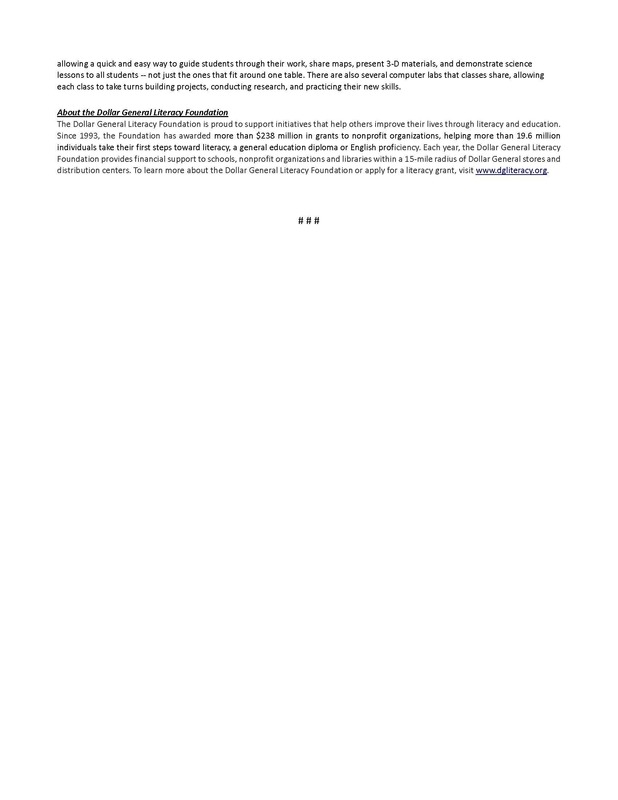 Cairo-Durham Elementary School Receives $4,000 from the Dollar General Literacy Foundation
Grant Aims to Support Local Youth Literacy
Cairo, NY – September 11, 2023 – The Dollar General Literacy Foundation recently awarded the Cairo-Durham Elementary School a $4,000 grant to support its youth literacy efforts. The funding is part of the Dollar General Literacy Foundation's recent award of nearly $2.6 million across the country to support more than 300,000 students attending more than 600 schools, libraries and nonprofit organizations in the communities Dollar General calls home.
"The Cairo-Durham Central School District and Cairo-Durham Elementary School are excited and honored to be the recipients of the Dollar General Literacy Foundation's top grant award," said Cairo-Durham Central School District Superintendent Michael Wetherbee. "The encouragement of literacy at all grade levels has always been prevalent in the school district, and we are grateful to receive this grant as a part of the 'Yellow Sunglass Project' to continue our efforts of doing so with our younger students."
The grant will be utilized for new "Science of Reading" books and materials to support teachers and students throughout this year. The grant was applied for by Cairo-Durham Elementary School teacher Sarah Hasbrook in an effort to help increase student's reading levels and the joy of learning through reading books.
"We are proud to award these grants to literacy and education programs across the country and support their meaningful work of expanding children's joy of reading and creating a foundation for future educational growth," shared Denine Torr, executive director of the Dollar General Literacy Foundation. "We are excited to make a difference in thousands of students' lives through these donations and look forward to making more positive impacts as we celebrate the Foundation's 30th anniversary year."
The Dollar General Literacy Foundation supports organizations that increase access to educational programming, stimulate and enable innovation in the delivery of educational instruction and inspire a love of reading. Each year, the Dollar General Literacy Foundation awards funds to nonprofit organizations, schools, and libraries within a 15-mile radius of a Dollar General store or distribution center to support adult, family, summer, and youth literacy programs. The Foundation also offers a student referral program for individuals interested in learning how to read, speak English, or prepare for the high school equivalency exam. Referrals to a local organization that provides free literacy services are available online here or through referral cards found in the Learn to Read brochures that are available at the cash register of every Dollar General store.